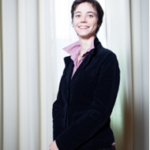 Pianist Alice Meregaglia was born in Tradate (Italy) on the 25th of August 1983, she obtained her diploma in piano at the conservatory "B. Marcello" of Venezia under the supervision of Massimo Somenzi, and obtained the master degree cum laude and honorable mention in piano (specialization repetitor) at the conservatory « G. Verdi » in Milano, in the class of Umberto Finazzi. She also graduated the degree cum laude in "Musicologia e Beni Musicali" at the University of Milano.
In 2012 he won the position of "chef de chant" at the "Opéra national du Rhin" – operastudio, where she works as repetitor and she studies conducting with Vincent Monteil.
Holder of a scholarship for repetitor provided by the Abruzzo region in the « Progetto Multiasse », she studied with Umberto Finazzi, Leone Magiera, Sergio Rendine, and she collaborated at the masterclasses of teachers Luciana Serra, Bernadette Manca di Nissa and Carmela Remigio.
As repetitor she participated in activities of « Operastudio 2011 » by teachers Renata Scotto, Anna Vandi and Cesare Scarton at the « Accademia Nazionale di Santa Cecilia » in Roma.
She took part in opera workshop aimed at the production of « Il Trovatore », edited by Daniele Agiman, she participated in the productions of « La Traviata », « La serva padrona », "L'elisir d'amore" (for the conservatory of Milano), « La scala di seta », "L'occasione fa il ladro" (for the group « Ticino Musica » of Lugano), "Blanche-Neige" and Owen Wingrave (for the "Opéra national du Rhin").
She also worked for the  »Associazione Musicale Scaligera » accompanying masterclasses held by the contralto Bernadette Manca di Nissa, she collaborated at the masterclasses of Sylvia Sass, Sylvie Valayre, Francoise Pollet, Nicola Martinucci, and performed in numerous editions of the lyric competition « Assami » organized within the conservatory of Milano.
She attended postgraduate classes for chamber music with Filippo Faes, Oleg Marshev and Pier Narciso Masi, and as a piano duo she studied at the "Scuola di Musica di Fiesole" with Bruno Canino. She performed at masterclasses taught by Karl Leister and Antony Pay. She also explored the chamber music vocal repertoire with teachers Stelia Doz and Guido Salvetti.
As a musicologist, she participated as a speaker at the XIV annual conference organized by the Italian Society of Musicology at the conservatory « Luisa D'Annunzio » of Pescara and she wrote critical editions published in the  » Quaderno delle Notti Malatestiane 2008″.