soprano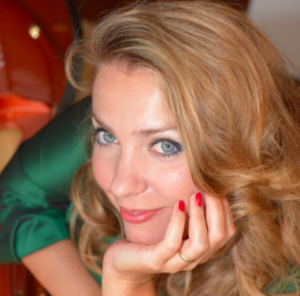 http://www.elenabakanova.it/
Elena Bakanova se diplôme en chant au Conservatoire de Musique G. Verdi de Milan avec les Félicitations à l'unanimité du jury. Elle a étudié avec Renata Scotto, Mirella Freni et Michel Plasson.
Elle poursuit une brillante carrière internationale en Europe, Amérique, Afrique du Sud ainsi qu'en Russie à l'Opéra National du Rhin, l'Opéra national de Lyon, l'Opéra de Nice, l'Opéra de Monte Carlrlo, le Stadtcasino de Bâle, le Teatro Coliseo de Buenos Aires, l'Opéra de Sunnyside, l'Opéra House de Cape Town, l'Opéra National de Windhoek, l'Opéra ABAO de Bilbao, le Theatre Royal Wexford Opera Festival, l'Opera National de Copenague. Dans son pays d'adoption, elle chante dans les théeâtres de Bologne, Bolzano, Côme, Bergame, Florence, Turin, Lugo, Piacenza. Elle participe également à la « Stagione Concertistica dell'Accademia Chigiana » de Sienne, la « Stagione della GOG » de Gênes et se produit avec la Fondazione Arturo Toscanini de Parme. Son début dans le rôle d'Euridice et de la Musique dans l'Orfeo de C.Monteverdi au Théâtre de l'Ermitage de Saint Petersbourg fut prestigieux, elle retrouve ensuite ce rôle au Festival « MITO Settembre Musica » de Turin. En 2012, elle interprète le rôle de Marfa dans l'Opéra de Rimskij-Korsakov « La Fiancée du Tsar » et dans la « Messe Glagolitique » de Janacek au Stadtcasino Groser Saal De Bâle. Récemment, elle débute dans Macbeth de G. Verdi au Théâtre G. Verdi dans une mise en scène de Dario Argento, interprète Norina dans « Don Pasquale » de Donizetti au National Theatre Komi Reppublique. Ainsi que le rôle de Rosina dans « Il Barbiere di Siviglia » au Teatro Ariston de Sanremo.
En juin 2015, la prestigieuse revue « Amadeus » publie son CD « Rare Russian Songs » consacré aux airs de chambre de P.I.Tchaikovsky, A.Skriabin, M.I.Glinka et S.Rachmaninoff avec le DUO LUOGHI IMMAGINARI.
Parmi les principaux rôles qu'elle a interprété sur scène, citons : Adina, Norina, Ines et Rita de G. Donizetti, Mimì et Musetta de G. Puccini; Susanna, Despina, Silberklang de W.A.Mozart; Rosina et Contessa Folleville de Rossini; Gretel de Humperdinck; Nannetta, Gilda, Anna, Dama de Lady Macbeth, Oscar, Sacerdotessa de G.Verdi et d'autres rôles du répertoire russe des opéras de P.I.Tchaïkovski, N.A. Rimsky-Korsakov et D.Shostakovich. Elle est aussi professeur de "Musique de Chambre Vocale" à l'Institut Supérieur d'Etudes Musicales «A. Peri» de Reggio Emilia.
Depuis 2016, elle enseigne la "Musique de Chambre Vocale au Conservatoire" d'Etat de Musique Giacomo Puccini de La Spezia.
---
He studied music at the Conservatory of Music G. Verdi in Milan, with the diploma in singing with full marks and honors; He later obtained a Postgraduate Diploma level in singing with honors in 2006. He also attended master classes with MirellaFreni and the Accademia Nazionale di Santa Cecilia in Rome under the guidance of Renata Scotto with scholarship. Winner of the hearing convened by the Opera National du Rhin de Strasbourg moved to France perfecting the language and the French repertoire with Maestro Michel Plasson and Francoise Pollet, debuting in the roles assigned by the Board at the Opera National de Strasbourg (France). In 2004 she was selected to hearings held dall'As.Li.Co. debuting elisir d'amore by Gaetano Donizetti in the following theaters: Social Como, Teatro Ponchielli of Cremona, the Teatro Grande in Brescia, Teatro Fraschini of Pavia, Aquila Theatre of Fermo, Teatro Donizetti in Bergamo, Teatro Comunale Bologna.
His debut came in 1996 in the roles of Michaela in « Carmen » and in G.BizetPrilepa role in « The Queen of Spades » by PJ Tchaikovsky, developing a successful business that the protagonist of a tour in South Africa, performing at National Theatre of Windhoek, Sunnyside and Opera Huose of Cape Town (2000) with Maestro Umberto Finazzi of the Teatro alla Scala in Milan and a tour in Argentina in prestigious venues such as the theater « Coliseo » in Buenos Aires, Teatro « a .Bustelo « Mendoza, Teatro » El Circulo « of Rosario (2002). He made his debut in the same period in the opera « Rigoletto » by Verdi as Gilda at the Teatro alle Vigne di Lodi and in the role of Norina in « Don Pasquale » by G. Donizetti. In 'October 2001 is called to participate in the prestigious 50th Wexford Festival Opera in Ireland in the opera « Falstaff » by G. Verdi in the role of Nannetta that lead to debut in 2002 at the Teatro Comunale di Bologna Foundation work « the Favorite « by G. Donizetti directed by Maestro M. Benini directed by W. Pagliaro at the Nuovo TeatroComunale di Bolzano in » Die Zauberflote « by WA Mozart directed by D. Abbadoand the Orchestra Gustav Mahler Akademie , the Teatro Sociale di Trento and at the Teatro Comunale di Rovigo and again at the Teatro Comunale di Bologna Foundation in « Die Zauberflote » with the direction M ° K. Ono directed D. Abbado. In October 2003 called 53 minutes Wexford Festival Opera in Ireland in the opera « Hansel und Gretel » by Humperdinck in the role of Gretel. Nell 'in April of 2004 he made his debut in the first round in the work of O. Respighi « The sleeping beauty in the woods », in the role of La Fata Azur at the Teatro Rossini in Lugo with the Orchestra and Chorus of the Teatro Comunale di Bologna.
In December 2004, there is another prestigious international presence in the work « Moskva Cheremushki » by D. Shostakovich at the Theatre Nationale de l'Opera de Lyon in France conducted by Maestro A. Lazarev and directed by J. Deschamps.She was later re-engaged at the Teatro Comunale di Bologna for the Opera Season 2004/05 in « The sleeping beauty » by O. Respighi. In March 2005, has been engaged in a series of concerts in Russia with the Orchestra of the State Theatre of Cheliabynsk where he recorded for the « Canal Culture » National « Ave verum » for soprano and orchestra in the world premiere of Alberto Colla. Nell 'debuted in April 2005 premiere in monodrama « Else » by A. Glue for soprano and orchestra at the Teatro Verdi in Florence under the direction of Maestro Carulli with the Orchestra Regionale Toscana, broadcast live on RAI Radio 3.
In 2007 he made his debut at the Theatre National de l'Opera de Strasbourg (France) in the opera « Der Schauspieldirektor » by WA Mozart in the role of Silberklang conducted by Maestro V.Montiel directed by C. Bucchvald and in the opera « La belle Helene « by J. Offenbach in the role of Leoena conducted by M ° C. Schnitzler and directed by M. Clement.
Among other roles he played in Adina ' »Elisir d'amore » by G. Donizetti, and Musetta in « La Boheme » by G. Puccini, Merlina in « The impresario in distress » by D. Cimarosa, Despina in « Cosi fans' all « by WA Mozart.
A versatile artist, has also developed a wide repertoire ranging from the eighteenth century until the execution of some songs premiered at major institutions such as the Piccolo Teatro Regio in Turin, Code 602 Festival at the Auditorium of the Institute of Musical Studies « L . Boccherini « of Lucca, Season of the GOG Genoa » Foundation Museum N. Paganini « Music Fair in Turin at the Lingotto, » Soirees « of the Press Club of Turin with the Orchestra of the » Collegium Musicum »Conservatory in Berlin , « Chamber Season » Orchestra Cantelli « Milan, the Youth Symphony Orchestra of Piedmont, the Orchestra of the New Italian Opera Company, the Orchestra » Anima Antica Bologna « with original period instruments, the 'Orchestra Sinfonica della Valle d'Aosta, the Chamber Orchestra « I Musici di Parma », the Chamber Orchestra Milano Classica, the Orchestra Regionale Toscana ORT Foundation, the Orchestra of The Musical Afternoons of Milan. in France is performed in the « Great Hall of the European Parliament » in Strasbourg where he has been a huge success.
Among his performances in 2007 is notable debut in Spain at the Bilbao Opera under the direction of Maestro P. Heras Cassado. Switzerland has sung with the Orchestra Verein Interlaken Mass KV 427 C-mol of WA Mozart, in France with the Orchestre Symphonique de Mulhouse the Municipal Theatre « The Filatur » directed by M. Y. Pouspourikas. At the Teatro Regio in Turin G.Puccini played premiered « Promenade dans l'ile de la liberté » by Corghi. In 2008 she was engaged in a series of concerts in Copenhagen and at the prestigious Accademia Chigiana in Siena, where he was « Soprano in residence » of the Course of Composition.
In 2009 he starred in the role of Adina elisir d'amore by G. Donizetti at « The National Opera » of Denmark in Copenaghen.Tra his performances in 2010 of particular importance were the concerts with the Orchestra « Solistes de Monte-Carlo « (OPMC) Monaco; Switzerland to ZKO Haus Zurich, Kongresshaus AaraueBoswil where was the star in the opera « La Giudecca » by E. Fischer; in Denmark and Sweden with « Die Schopfung » by J. Haydn under the direction of E. Munk, is also starring in « Il Viaggio a Reims » by Rossini at the Teatro Municipale of Piacenza with the role of the Countess of Folleville, in a production of the Fondazione Arturo Toscanini in Parma and then again at the Teatro di Lugo and the Theater of Busseto, which was followed by the debut in the role of Despina in the Opera « Cosi fan tutte » by WA Mozart at the International Festiva « Opera Oblique » stand de Moutier.
For the Festival Viva Opera has reinterpreted the role of Gilda in « Rigoletto » by Verdi at the State Theatre M. Glinka. In 2012 he was a soloist playing the Great Mass in B minor BWV 232 and Cantata « Janch Gott in trains Landen » BWV 51 by JS Bach in Delemont and Moutier (Switzerland) with the Symphonic Orchestra of Jura region and in the « Petite Messe Solennelle « Rossini under the X Festival Imaginary Places. In 2013 he made his debut in the title role of Marfa in the opera « The Tsar's Bride » by N. Rimsky-Korsakov.
Recently she performed at the Teatro Alfieri, Teatro Bibiena of Mantua and the Teatro Splendor of Aosta with the Orchestre du Conservatoire de la Vallée d'Aoste. His upcoming engagements include « Ein Deutsches Requiem » op 45 by J. Brahms at the Hermitage Theatre in St. Petersburg and the Choral Symphony No. 2 « Lobgesang » Mendelssohn at the International Festival MITO Settembre Musica of Turin, in the dissemination of CD « Rare russian songs » and at the Theatre of Murcia in Spain. In January 2014 he made his debut as a protagonist in the Work « Iolanta » by PI Tchaikovsky in St. Petersburg, where in June 2014 he made his debut at the Hermitage Theatre in the Work of G. Paisiello « The games of Agrigento. Soon will be engaged in a teourneè in Switzerland with the « Concerto for Soprano and Orchestra » op 82 of R.Gliere.In agost 2015 she debut at the famous "Teatro Ariston in Sanremo" the role of Rosina in "Il Barbiere di Siviglia" by G.Rossini.