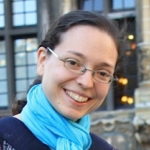 Born in Grand Rapids, MI, USA, Erika Burnett's love of vocal music collaboration began at age 10, accompanying her children's choir. She continued to accompany local choirs and musicals, eventually working with Opera Grand Rapids both as a singer and rehearsal pianist. At Cornerstone University in her hometown she studied piano, voice and theater, earning a BMus. with highest honors. After a summer as a scholarshipped accompanist and opera repetieur at Aspen Music School, she moved to London to study accompanying and coaching at the Guildhall School of Music and Drama with Graham Johnson.  Erika finished her formal studies at the Alexander Gibson Opera School with a PGDip Repetieur. While in Glasgow she played and coached nine full operas including Manon (Massenet), Calisto (Cavalli) coaching and playing continuo alongside David Roblou, and Idomeneo (Mozart), again on continuo.
She has played in masterclasses with Malcolm Martineau, Elly Ameling, Graham Johnson, Iain Burnside, Gordon Back, Edward Berkeley and Martin Katz.
While at the Scottish Academy, she won the  Frank Spedding Lieder Prize with her duo partner, Dörte Högner. They have been active in Liederabende throughout Germany ever since, with programmes including Wesendonk Lieder (Wagner), Vier Ernste Gesänge (Brahms) Liederkreis (Schumann), and are currently working on  Sea Pictures (Elgar).
Erika has played and coached productions with Deutsche Oper am Rhein and Theater Hagen. She has sung as church musician at the Berger Kirche, Düsseldorf, as well as in Steinmauer-Neerach, Switzerland, and sang as chorister and soloist in the Matthäuspassion (Bach) with Holy Trinity Brussels. She is currently engaged to sing Weihnachtsoratorium and the Passion again in Brussels 2013-14. Erika served as musical director of a women's choir, Voices of Joy in Zürich, and was most recently Assistant Musical Director 2012-13 of the Brussels Chorale Society, preparing and perforing Carmina Burana (Orff), Gloria and Magnificat (Vivaldi), Messe in C (Beethoven), Requiem (Duruflé) Five Flower Songs (Britten) and Flower Songs (Persichetti).