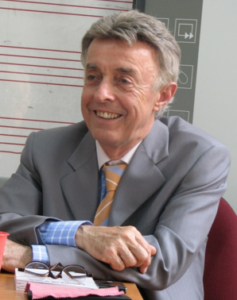 Opera singer and stage director
Studies : Music Academy in Cluj and Vienna, Old Music Seminary in Bruges.
Professors Stella Simonetti, Albert D'André, Emmie Sittner, Alex.Kolo, Eric Werba.
Distinctions : First Prizes at Intern. Singing Competitions « Robert Schumann » -Zwickau, « Fr.Vinas » and « Maria Canals »-Barcelona, « G.Enescu »- Bucarest, »Conc.Intern. de Genève », A.R.D. Wettbewerb – Munich.
Honorary citizen of Bucarest city, Order of Merit from Luxembourg and Romania, Doctor Honoris Causa of the University from Cluj and Timisoara, PhD in Music.
Jobs : Soloist at the Opera houses and Concert Halls in Vienna, Salzburg, Bregenz, Klagenfurt, Bern, Luzern, Basel, Lausanne, Genève, Paris, Lyon, Rouen, Metz, Montpellier, Lille, Nancy, Bruges, Bruxelles, Liège, Barcelona, Madrid, Bilbao, Porto, Lisboa, Bologna, Palermo, Catania, Roma, Rio, Sao Paolo, Beograd, Budapest, Prag, Bucarest, Cracow, Riga, Berlin, Dresden, Frankfurt, Köln, Munich, Stuttgart, Düsseldorf… and many European, American and Asian concerts under conductors : H.Swarowsky. L.Gardelli. N.Santi, A.Erede, J.Ferencsik, A.Jordan, L.Hager, Th.Guschlbauer, J.Cl.Malgoire, M.Rostropovici, H.M.Beuerle, S.Camberling, B.Soustreau, P.Cao, J.Houtmann, C.Mandeal, E.Simon, and many Lieder recitals with great pianists as such: E.Werba, F.Weiss, M.Zanetti, E.Gage, A.Jordao, A.Spiry, N.Shettler,H.Deutsch,…
Opera director in Opera House Cluj,1982-1985, stage director in Romanian and Hungarian Opera Houses. Opera-Studio Luxembourg (founded and conducted from Radu Pantea,his son).
Professor of the Opera Class in Cluj and Luxembourg, 1964-2001 with interruption,
2002-2007 artistic director from Opera Studio in the Hungarian State Opera Budapest, soloist in « Don Giovanni », « Cosi fan tutte », « La clemenza di Tito » (W.A.Mozart) and « Lady Macbeth of the Mtsensk District » (D.Shostakovich) and member in board of directors at the same Opera House. Participation to a pedagogical project as stage director in 8 opera performances in Budapest with my students from Opera Studio 2006-2013. 2007-2010 professor of Master Degree Music Academy in Cluj.
Master Classes in Luxembourg, Prag, Cracow, Budapest, Bucarest, Riga, Casa Mateus, Cluj, Oakland, Vancouver, Tai-Pei…
Festivals : La Chaise- Dieu, Bregenz, Salzburg, Vienna, Budapest, Bucarest, Prag, Echternach, Macao, Açores, Edinburgh, Auckland…

Records : Many L.P. , C.D. and Videos with Schubert-Lieder, Mozart, Haydn, Beethoven, Wolf, Wagner, Verdi, Dvorak, Prokofiev, Bartok, Enescu, Hager works.