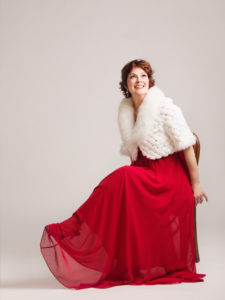 Jennifer Larmore
is an outstanding American mezzo-soprano, well known for her versatility, natural beauty, and stagecraft. This artist has a wide-ranging repertoire, having begun with the coloratura roles of the Baroque and bel canto then adding  music from the  Romantic and Contemporary periods.  
She began her career at Opera de Nice in 1986 with Mozart's La Clemenza di Tito and went on to sing at virtually every major opera house in the world, including the Metropolitan Opera, La Scala, Paris Opera, Berlin Deutsche Oper, and London Covent Garden.
Jennifer Larmore has recorded widely for the Teldec, RCA, Harmonia Mundi, Deutsche Grammophon, Arabesque, Opera Rara, Bayer, Naive, Chandos, VAI and Cedille labels in over one hundred CDs to date.
With her frequent collaborator Antoine Palloc, she has made many International recital tours, including appearances in Amsterdam, Paris, Madrid, Hong Kong, Seoul, Tokyo, Vietnam, Vienna, London, San Juan, Prague, Melbourne, Brussels, Berlin, Rio de Janeiro, Lisbon, Sao Paolo, Athens and Copenhagen, as well as all the major American venues.
Symphonic repertoire plays a large role in this mezzo's career with the works of Mahler, Schoenberg, Mozart, de Falla, Debussy, Berlioz and Barber featuring prominently. Miss Larmore has enjoyed great collaborations with world orchestras under the direction of Muti, Lopez-Cobos, Bernstein, Runnicles, Sinopoli, Masur, von Dochnanyi, Jacobs, Mackerras, Spinosi, Abbado, Barenboim, Bonynge, Maazel, Osawa, and Hengelbrock.
 
Jennifer's repertoire has expanded recently to include new roles such as the "Countess Geschwitz" in Berg's Lulu which she debuted to great success at Covent Garden in the Christof Loy production with Tony Pappano, then again in Madrid and Paris Opera Bastille;  « Kostelnička Buryjovka »  in Janacek's Jenufa with Donald Runnicles at Berlin Deutsche Oper;  "Lady Macbeth" in  Verdi's opera Macbeth, a role she debuted in a striking new production of Christoph Loy at the Grand Théâtre de Genève and subsequently in Bologna for the opening of the season in a new Robert Wilson production; "Eboli" in the French version of Don Carlos at the Caramoor Music Festival in New York with Will Crutchfield and "Jocasta" in Stravinsky's Oedipus Rex at the Bard Festival. She reprised the role of  « Gräfin Geschwitz » in Berg's 

Lulu

 in a new production of William Kentridge with Lothar Zagrosek conducting for the Dutch Opera and most recently debuted the role of  « Mère Marie » in Les dialogues des carmélites at the Caramoor Festival, New York. She went back to her roots with « Ottavia » in Monteverdi's l'Incorronazione di Poppea at the Theater an der Wien in October 2015 and will return to that theater for her debut in the role of « Elvira » in Mozart's Don Giovanni for December 2016.
Miss Larmore, in collaboration with the double bass player Davide Vittone, has created an ensemble called Jennifer Larmore and OpusFive. The three programs they offer are entertaining and varied with Songs and Arias, Cabaret/Operetta and Movies and Broadway which feature string quintet and voice. They have given concerts in Seville, Pamplona, Valencia, Las Palmas, Venice, Amiens, Aix en Provence, Dublin, and Paris.
In 2002, "Madame" Larmore was awarded the Chevalier des arts et des lettres from the French government in recognition of her contributions to the world of music.
 In addition, to her many activities, travels, performances and causes, author Jennifer Larmore is working on books that will bring a wider public to the love of opera. Her new book « Una Voce » is available at Barnes & Noble, Amazon, and Lulu.com and explores the world of the performer.