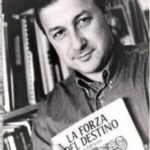 Semyon Rozin´s international conducting engagements have included appearances with Rheinisches Kammerorchester, West Germany Radio Orchestra and Chorus of Cologne, the Dutch Radio Chorus (Hilversum), the Israeli Chamber Choir, Flamish Radio Chorus, Belgian Radio Chorus (BRTN)
In the United States he conducted the Bloomington Symphony Orchestra and the St.Paul Civic Orchestra. He also directed the Chamber Orchestra and the Chamber Chorus of Minsk (Belorussia).
In the field of opera he served as Assistant Artistic Director at the Goldovsky Opera Institute, Assistant Music Director at Opera St.Paul, Chorus Master at the Reiseoper Enschede (Netherlands), as a coach at the University of Minnesota, at Twin Cities Opera Guild, at St.Catherine College (St.Paul), Cincinnati Opera, Wiesbaden Opera (Germany), Netherlands Opera (Amsterdam), AIMS in Graz (Austria), Bel Canto Fstival Dordrecht (Netherlands). From 1994 until 2001 he has successfully presented "Opera in concert" series at the northern German island Sylt.
Since 1984 Semyon Rozin has held the position of Assistant Professor at the Opera Studio at the Musikhochschule in Cologne (Germany). From 1995 until 2003 he was also on the faculty of Musikhochschule Frankfurt/Main.
From 1988 until 1992 he served as a personal coach of Scottish soprano Margaret Marshall (Covent Garden, La Scala, Vienna Opera, Salzburg, Frankfurt, Berlin, Cologne). Among the artists with whom Semyon Rozin had an intensive artistic collaboration are: Delores Ziegler, Lela Cuberli, John Tomlinson, Lado Ataneli, Christiane Oelze, Christopher Ventris.
His superb talents were honed under such masters as Ferdinand Leitner, Boris Goldovsky and Neville Marriner.
He studied at Mozarteum in Slazburg, Austria, and was awarded an Aspen Music School Scholarship, a Baron de Hirsh Scholarship, a Goldovsky Opera Institute Fellowship and a Rochefeller Grant.