Teresa Berganza, canto as expression of a style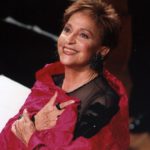 She's got black eyes and a white simile. Her calling is music and she was born to sing.
She has forever marked Dorabella, Zerlina and Cherubino; Rosina, Angelina and Isabella, Perichole; Dulcinea; Charlotte, Carmen… with archetype characters.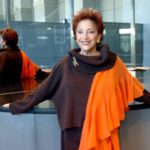 Her voice, the subduing voice of Teresa Berganza is something like the invocation of a mystery made accomplice to the shinning of her gaze; a voice full of magic, that isn't an intention of itself but natural meaning to the service of a sentiment. She insufflates on a song both the ideal lyric purity of a melody and the taking of an existentialist dramatic passion; a voice to and for every vowel; a voice for musical words, which she melts in a prodigious way.
Teresa Berganza enriches the sounds through inexorable phraseology; managing to send forth nitid words through a melody, her "legato" fuses rhythms and cadencies like a goldsmith.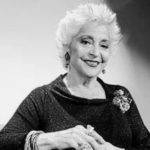 In Teresa Berganza everything previously said gives an abundant argumentation to deduct an aesthetic synthesis, over which a sound personality lays a style. One sings as one is; and Teresa Berganza is inwardness, musical delicacy, sensuality and fantasy made poetry. That is Berganza's style. A style minted from that day in Aix-en-Provence, in which French critics announced the birth of an epoch-making mezzo-soprano; confirmed in Salzburg, to reach its peak in Edinburgh; when Teresa assumes the difficult and transcendental commitment of facing Carmen, a woman-character of soul and body that places freedom and love before her own life…
Berganza's style bewitched the Paris Opera House, Vienna, Scala, Covent Garden, the Rome Opera House, the Buenos Aires's Colon, the New York Metropolitan, Dallas Opera, Chicago, San Francisco, the Hamburg Opera, Stockholm, etc., under the conducting of Giulini, Rescigno, von Karajan, Solti, Metha, Abbado, Baremboim, Muti, Adler… an the scenic precision of Zeffirelli, Rennert Ponelle, Strehler, Faggioni… (more info on her website here)
If you are interested in participating in the masterclass please register here